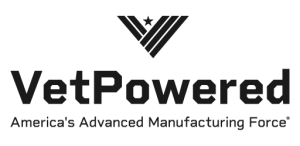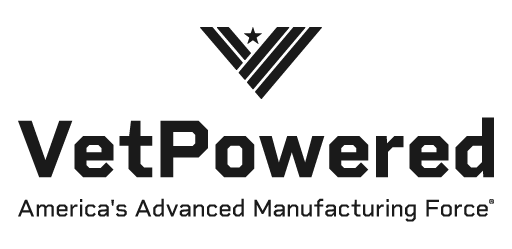 SERVICES
CNC MILLING
CNC TURNING
CNC DRILLING
CNC PUNCHING
CNC CUTTING
CNC SAWING
CNC SHEARING
CNC BENDING
FABRICATION
WELDING
PIPE & TUBE NOTCHING
PRESERVE & COAT
AS9100D & ISO 9001:2015 CERTIFIED
CLASS B GENERAL CONTRACTOR
CALIFORNIA LICENSE #: 994652
DUNS #: 832396480
SUPPLIER #: 1363400
CAGE CODE: 6DQQ3
C-10 ELECTRICAL
C-36 PLUMBING
C-43 SHEET METAL
AS9100revD

Quality Clause
UPDATED: 20220801, 1700

hrs



Thank you for visiting and learning more about America's Advanced Manufacturing Force®. To download a digital (PDF) version, simply click the button below. If you have questions, please email info@vetpowered.com.
AS9100 Supplier Flowdown Requirements
VetPowered, LLC evaluates its external providers and purchases only from those that can satisfy quality requirements. Quality performance of external providers is monitored and evaluated. Purchasing documents clearly and completely describe ordered products, including quality requirements. Purchasing documents are reviewed and approved prior to release. Purchased products are verified before they are used or shipped.
VetPowered, LLC is responsible for the quality of all processes, products, and services purchased from external providers, including customer designated sources. When required, customer- designated or approved external providers, including process sources, are used.
Risks associated with the external provision of processes, products, and services, as well as the selection and use of external providers are identified, and appropriately managed.
VetPowered, LLC requires that external providers apply appropriate controls to their direct and sub-tier external providers, to ensure that requirements are met.
VetPowered, LLC:
Defines the process, responsibilities, and authority for the approval status decision, changes of the approval status, and       conditions for a controlled use of external providers depending on their approval status
Maintains a register of approved external providers (Suppliers) (ASL – 'Approved Suppliers List') that includes the scope of the approval
Annually reviews external providers performance including process, product and service conformity and on- time delivery performance, records of these reviews are used as a basis (see Suppliers) for establishing the level of controls to be implemented.
Defines the necessary actions to take when dealing with external providers that do not meet the requirements.
Ensures where required that both the Company and all external providers use customer approved special process sources:
Ensures that the function having responsibility for approving external providers' management system has the authority to disapprove the use of sources.
Defines the requirements for controlling documented information created by and/or retained by external providers.
All new external providers whose product, service or processes have impact on the quality of product, service or processes provided by VetPowered, LLC are evaluated regarding their quality and process capability. The criteria for selection of suppliers are defined in PR-8.4-1. Suppliers that meet the criteria will be approved and added to the Approved External Providers List. Products and/or services may be purchased only from suppliers who are listed on the Approved External Providers List.
VetPowered, LLC ensures that:
Externally provided processes remain within the control of its QMS
Controls that are intended to be applied to external providers and controls applied to their intended outputs are defined
Externally provided processes, products and services do not adversely affect the organization's ability to consistently deliver conforming products and services to its customers and consistently meet customer and applicable statutory and regulatory requirements.
The effectiveness of the controls applied by the external provider
The results of the periodic review of external provider performance
The verification, or other activities, necessary to ensure that the externally provided processes, products, and services meet requirements
Quality performance of suppliers is monitored. Suppliers demonstrating inadequate performance may be asked to implement corrective action. If the requested corrective action is not implemented and there is no improvement in performance, the supplier will be removed from the Approved Suppliers List.
Verification activities of externally provided processes, products, and services are performed in accordance to the risks identified by VetPowered, LLC.
These will include inspection or periodic testing, as applicable, when there is a high risk of nonconformities including counterfeit parts.
VetPowered, LLC has established and implemented a receiving inspection process necessary for ensuring that purchased product meets specified purchase requirements.
Verification activities may include (as applicable):
Obtaining objective evidence of the quality of the product from the external provider (e.g. accompanying documentation, certificates of conformance, test reports, statistical records, process controls, results of production process verification and assessment of changes to the production process thereafter)
Review of the required documentation
Review of production part approval process data
Inspection of products or verification of services upon receipt
Delegation of verification to the external provider, or external provider certification
Purchased product shall not be used or processed until it has been verified as conforming to specific requirements. When externally provided product is released for production use pending completion of all required verification activities, it is identified and recorded to allow recall and replacement if it is subsequently found that the product does not meet requirements.
Where the company utilizes test reports to verify purchase product, the data in those reports is acceptable per application specifications.
Where the Company delegates verification activities to the external provider, the scope and requirements for delegation are defined and a register of delegations maintained. VetPowered, LLC monitors and periodically reviews the external providers delegated verification activities.
Where the Company or its customer intends to perform verification at the external provider's premises, the Company states the intended verification arrangements and method of product release in the purchasing information.
Where specified in the contract, the customer or the customer's representative is afforded the right to verify at the supplier's and/or Company premises that subcontracted product conforms to the specified requirements.
Verification by the customer is not used by the Company as evidence of effective control of quality by the external provider and does not absolve the Company of the responsibility to provide acceptable product, nor does it preclude subsequent rejection by the customer.
When external provider test reports are utilized to verify externally provided products, the data in the test reports will be reviewed and evaluated per company process to ensure that the product meets requirements. When a customer or organization has identified raw material as a significant operational risk (e.g. critical items), VetPowered, LLC will implement a process to validate the accuracy of test reports. This process is to send the raw material to a third-party test lab for verification, as required by customer.
Information for External Providers
VetPowered, LLC uses purchase orders (PO's) to describe the product or services to be purchased. Purchase Orders are created by designated individuals within the company. Purchasing documents are reviewed for adequacy and approved by purchasing personnel prior to release. Purchasing documents clearly describe the product to be purchased, including, where appropriate, the following on the face of the purchase order:
Quantity required
Product part number, service, or process with appropriate description including the identification of relevant technical data such as specifications, drawings, process requirements, and/ or work instructions
Material or process requirements
Quality requirements
Pricing
Delivery requirements
Approval of products, services, methods, processes and equipment or the release of products and services
Competence, including any required qualification of persons External provider's interactions with the Organization
Control and monitoring of the external provider's performance to be applied by the organization Verification or validation activities that the organization, or its customer, intends to perform at the external provider's premises
Design and development control
Special requirements, critical items, or key characteristics
Test, inspection, and verification including production process verification
The use of statistical techniques for product acceptance and related instructions for acceptance by the company
The  following  information  will  be  provided  to  external  providers  (Suppliers)  as  flow  down  quality requirements that include the need to:
Implement a quality management system
Use customer designated or approved external providers, including process sources like special processes
Notify the company of nonconforming processes, products, or services and obtain approval for their disposition
Prevent the use of counterfeit parts
Notify the company of changes to processes, products, or services, including changes of their external providers or location of manufacture, and obtain the organizations approval
Flow down to external provider's applicable requirements including customer requirements Provide test specimens for design approval, inspection/ verification, investigation, or auditing Retain documented information, including retention periods and disposition requirements
The right of access by the company, their customer, and regulatory authorities to the applicable areas of facilities and to applicable documented information, at any level of the supply chain
Ensuring persons are aware of:

Their contribution to product or service conformity
Their contribution to product safety
The importance of ethical behavior