Maintenance and Repair Services

America's Advanced Manufacturing Force®

CONTACT US NOW FOR AN ASSESSMENT:

619-269-7116

Repair Services
VetPowered, LLC provides fast and reliable machinery repair and maintenance services. We provide our customers with mobile repair services, traveling onsite to repair and recondition a wide assortment of advanced manufacturing equipment. Our technicians provide top-rated services, minimizing any lags in machine use so you can better serve your customers.
VetPowered, was founded in 2009 to service the intersection of a highly qualified Veteran manufacturing workforce with industry needs. The Veterans at VetPowered are dedicated to bringing advanced manufacturing back to America.
Preventive Maintenance
Set up a maintenance plan to prevent emergency situations. Protect your investment and maximize your productivity by utilizing locally available U.S. veteran millwrights to keep your machines in the best possible condition. Preventive maintenance plans are available for all CNC machines. Additional service, repairs, and parts for repairs are subject to standard service rates.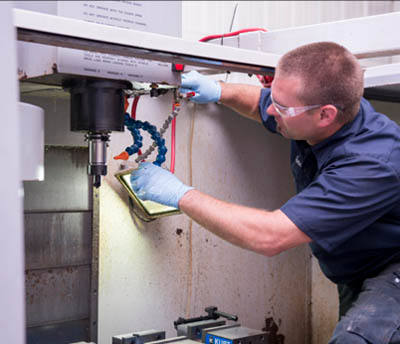 Types of Machines Serviced:
Band Saws
Belt and Disc Sanders
CNC Laser
CNC Lathe
CNC Mill
CNC Plasma
CNC Waterjet
Drill press
Horizontal Boring Mill
Hydraulic Power Shear
Hydraulic Press
Iron Workers
Manual Lathe
Manual Mill
Material Handling Systems
Press Brake
Routers
Sand Blasting Equipment
Small Engine Repair
Tube Benders and Rollers
Welders and Generators
Vertical Boring Mill
Vertical Turret Lathe
Community Involvement
Every product we make and service supports Workshops for Warriors, a 501(c)(3) nonprofit dedicated to training, certifying, and placing veterans and wounded warriors into advanced manufacturing careers. Please visit www.wfw.org for more information.
VetPowered, LLC is an 8(a), AS9100D & ISO 9001:2015 Certified, HUBZoned, Minority Owned, Service-Disabled Veteran-Owned (SDVSB), Small Business, and Micro-SB Certified business dedicated to bringing advanced manufacturing back to America, one veteran at a time.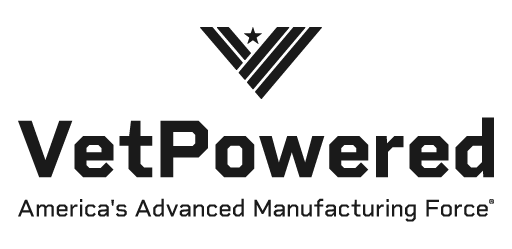 SERVICES OFFERED
AXIS DRIVE SYSTEM REPAIR
BALL SCREW CONVERSIONS & REPLACEMENTS
BLADE REPLACEMENT & SHARPENING FOR HYDRAULIC POWER SHEERS
CNC CONVERSIONS & UPGRADES
DRO INSTALLATION
ELECTRICAL FAULT ISOLATION & DIAGNOSIS
ELECTRICAL, MECHANICAL & PNEUMATIC SYSTEM INSTALLATION
ELECTRIC MOTOR REBUILDS
EMERGENT MACHINE REPAIR
EQUIPMENT RELOCATION
GIB MEASUREMENT & ADJUSTMENT
HYDRAULIC CYLINDER REPAIR
HYDRAULIC HOSE REPAIR
MACHINE CONSUMABLE SALES
MACHINE SALES
MACHINERY RIGGING
MACHINE ALIGNMENTS
MACHINE TOOL ASSESSMENTS
PARTIAL OR COMPLETE MACHINE REBUILDS
PLC INSTALLATION
PRECISION HAND SCRAPING, WAY GRINDING
POST INSTALLATION OPERATOR TRAINING
PREVENTIVE MAINTENANCE
SPINDLE REBUILDS
TERCITE/RULON APPLICATION
8(a), AS9100D & ISO 9001:2015 CERTIFIED
CLASS B GENERAL CONTRACTOR
CALIFORNIA LICENSE #: 994652
DUNS #: 832396480
SUPPLIER #: 1363400 
CAGE CODE: 6DQQ3
C-10 ELECTRICAL
C-43 SHEET METAL